As well as finishing her own championship, and continuing to work with sheep, Kate has produced two super litters here in Israel, with three champion offspring and five working service dogs from these pups.
It was exciting to be able to import a bitch of Kate's quality and background, and we thank Linda Holloway of Ability Collies for letting us have this lovely girl. We believe she will bring in many excellent qualities to our breeding program.
She has adjusted well to her new home, and despite having been a working dog - she is the only dog in Israel with an official herding title - she has very happily become a house dog. Once she has come back into condition after weaning her pups, she will also have a chance to start her show career here.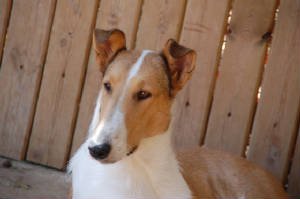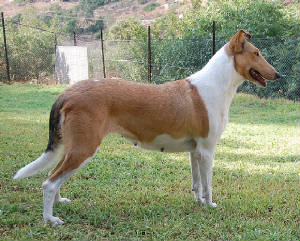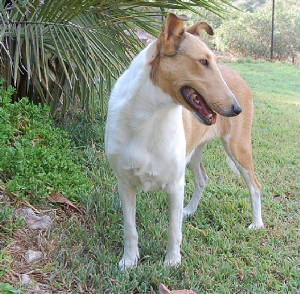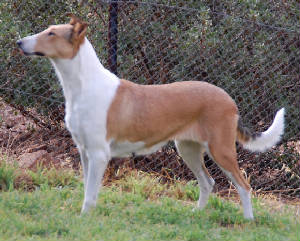 See some photos of her puppies

here.
Pedigree for Kate
Smooth collie, Sable and White
Born: December 28, 2005
Normal eyes, MDR1+/-, Normal hips
Sire
Ch. Belfair Blue Cadillac HSAS HXAD
Sire
Ch. Edenrock The Mask of Society
Sire
Ch. Edenrock of Ages
Dam
Ch. Society There's Your Trouble
Dam
Ch. Belfair Barely An Angel
Sire
Ch. Lochwynde's Kitleigh Advocate
Dam
Ch. Demuirs Sugarbabe of Belfair
Dam
Ohadi Grace Under Fire
Sire
Ch. Bit O Heaven's Darae Gun PT
Sire
Ch. Wild Wind's Blu Light Special
Dam
Locust Hill Heavens Minuet
Dam
Ohadi My Blue Interlude CD HSAS
Sire
Ch. Pennylane's Great Pretender
Dam
Ohadi Ivory Wild Wind