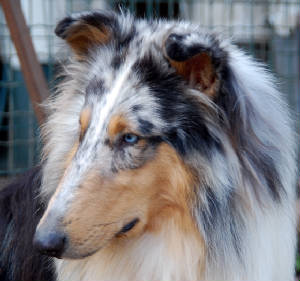 In very limited showing, Sky has already won two CACs towards his Israel Ch. title:
Feb. 12, 2010, judge: Rony Doedijns, Holland:
Intermediate class Exc.1, CAC - "Very masculine and excellent in proportions...very good in construction, typical front and rear angulation, very good in body, topline is okay, very beautiful in coat quality and markings, moves well..."
May 5, 2010, judge Revas Khomasuridze, Russia:
Intermediate Class, Exc.1, CAC - "Strong male, good bone, excellent long neck, correct topline, a little long in loin, very good hind angulation..."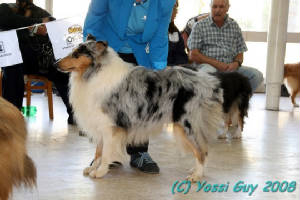 Sky appeared successfully in several shows as a puppy:
21/2/09, judge Christian Stefanescu: VP, Class Winner
Comments: Beautiful head, good substance, typical proportions, medium long neck, level topline, good angulations, correct in movement and very well presented.
21/3/09, judge Elena Balazsovits: VP, Class Winner
Comments: ...Good size. Middle strength of bones. Very good body length.... Good length of head....Good shape of eyes, very nice ear set and carriage, long neck, elegant topline, good form of chest....easy mover, good temperament.