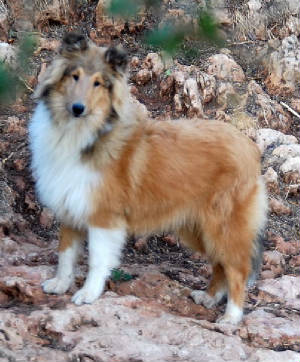 Topaz has started her show career with a bang, going Best Female Puppy in Breed in three shows 29-30 Nov.2013, under respected judges Avi Marshak, Aramis Joy Lim, and Charlotte Hoier.
Topaz is a very happy and outgoing girl who loves to play, and has a great time meeting people. We expect to have a lot of fun with her in future.
Pedigree for Topaz
Collie

Sire
Isr.JCh Churchoak Tattler
Sire
Van-M Good Fellow at Wicani
Sire
Van-M Good Samaritan
Dam
Van-M Free Lunch
Dam
Wicani Lights of Amethyst
Sire
Wicani Waltz of the New Moon
Dam
Seryphina Dance of the Raven Moon
Dam
Isr.JCh,Ch,GCh Take a Chance of Netiv HaAyit
Sire
Blue Chip of Netiv HaAyit
Sire
Int.Isr.Ch. Netiv HaAyit Silver Spirit
Dam
Int.Isr.Ch. King's Valley After All
Dam
Isr.Ch. Manakel Lakefield Pinnwinnie
Sire
Int.Br.Ch.WW Manakel Macgregor
Dam
Br.Ch. Lakefield Lauren of Liable
Born May 16, 2013 CEA affected, DM N/N, MDR1 +/+
Topaz has now completed a very successful puppy career, and we are looking forward to her first shows as a junior.