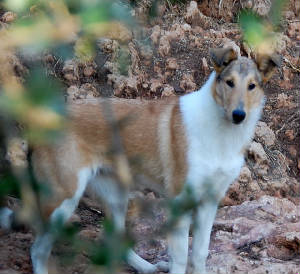 This litter was planned in the hopes of getting a female to carry on for Kate, their mother, who is now retired from breeding. We couldn't have wished for more. Robin is a lovely girl with an absolutely fantastic temperament, and loves everyone and everything.
Her introduction to the show ring has been highly successful - she has been 3 times Best Puppy in Breed in our 29-30 Nov. 2013 shows, under the respected judges Avi Marshak, Aramis Joy Lim, and Charlotte Hoier.
There is no doubt that Robin will keep us busy and challenged providing her with enough things to do.
Pedigree for Robin
Smooth Collie

Sire
McMaur's Evening Attire
Sire
McMaur's The Intimidator
Sire
Ch.McMaur's The Eliminator
Dam
McMaur's Bellagio Contessa
Dam
McMaur's Prerequisite
Sire
Van-M Pal Joey II
Dam
Van-M Little Red Logo
Dam
Isr.Ch.GCh. Ability's Kate of Ohadi HSAS ROMP
Sire
Belfair Blue Cadillac HXAD
Sire
Ch. Edenrock The Mask of Society
Dam
Ch. Belfair Barely An Angel
Dam
Ohadi Grace Under Fire
Sire
Ch. Bit O'Heaven's DaraeGun PT
Dam
Ohadi My Blue Interlude CD HSAS
Born May 19, 2013 CEA n by parentage, DM n/c, MDR1 -/-