Habibi is now an Israel Champion, gaining his final CAC November 6, 2010 under breed specialist Agnes Kertis Ganami. More proof that brains and beauty can indeed go together!
He has also been proving himself as a stud dog. His year old daughter from his first litter is now Israel Junior Champion Sid me Shaar Hagai, and her litter brother Alfred me Shaar Hagai is well on his way to the title. He has sired two super litters this year that show great promise both for show and performance.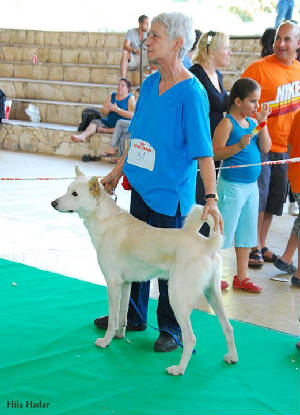 At the show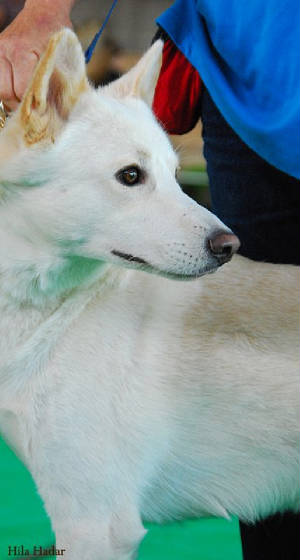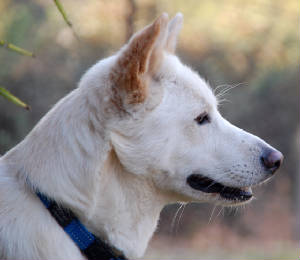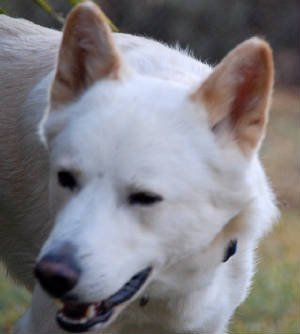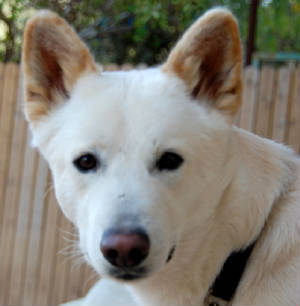 Meet Habibi, the newest addition to Shaar Hagai.
Habibi was born in France, a son of Sisma me Shaar Hagai, who was sent to my good friend Laurence Aries, and Ch. U'Nes HaBedouim de Solemel, a son of Bayud Bedoui me Tel Arad and Ch. Sufat Hol me Shaar Hagai. I met him on a visit to France the beginning of January 2008, and simply could not resist his charm. He returned with me, and he is so captivating that he captured the hearts of the air crew and was allowed to sit on the seat next to me .
Since being here in Israel, he has conquered the hearts of all he has met, and proven so far to be outstanding in temperament and intelligence, as well as beautiful.
He spends his time accompanying me everywhere and enjoying life. Watch this page for his further adventures!
July 2009 -
Habibi is continuing to prove himself to be one of the most intelligent dogs I have ever met, and one of the most special. He is totally devoted and ready to defend me with his life, but he is able to discriminate perfectly between what is normal and what is not, and is friendly and calm with people that he meets. He is, however, immediately able to identify, out of a group of many people, the one person he does not know, and will investigate to be sure that the stranger is allowed to be there.
He is in training as a search and rescue dog, and has amazed professional trainers here with his abilities. At this stage in his training, he is able to search an area of 500 sq.meters or more, with no track leading in, and find the "victim". He works in a variety of conditions, fields, forest, ruined buildings, and various weather, is persistant and calm and continues searching until he is successful. He works completely off lead, and always remains in eye contact with me. Habibi loves working, and is very happy whenever he sees me taking out our work knapsack.
He is also one of the few Canaans I know with a strong natural retrieving instinct. He loves retrieving and brings objects back over a long distance, and will bring me toys in the house to tempt me to throw them - he seems to think that he is part border collie...
He is a big boy, and a slow developer and so his show career is waiting for him to grow up a bit, but I expect that in the coming year he will start to go to shows.
The photos below are at 15 months of age.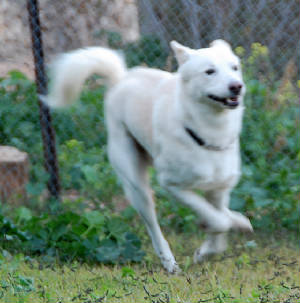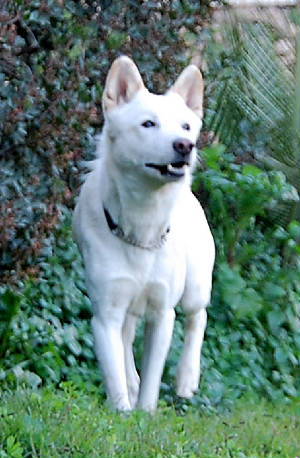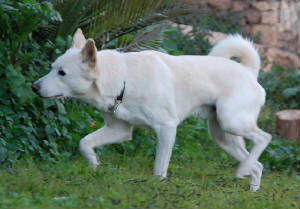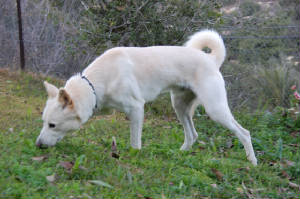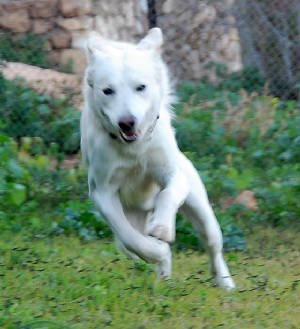 Below: as an irresistable puppy!