Sahar is now in the US with our friend Sheryl Dawson.
Sahar continues his winning ways - October 29, 2005, Israel Spitz Club show, Judge: Matti Tuominen, Finland - BOB, 3rd Best in Show!
CACIB, BOS - Maayan Harod Int. Show, September 24, 2005, to complete his Int. Ch. title!
News! BOB and CACIB, Maayan Harod International Show, May 8, 2004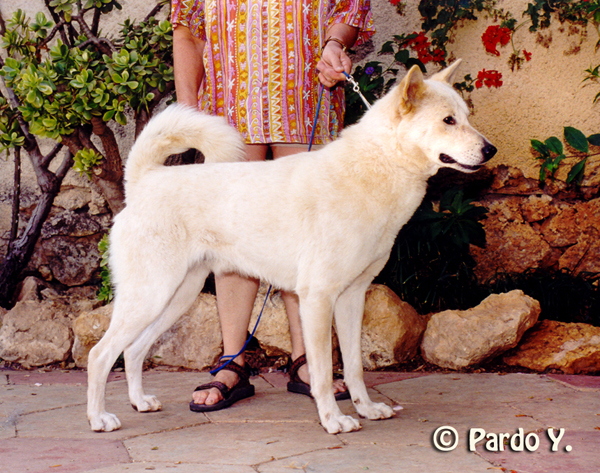 I never intended to keep Sahar. We didn't need another male around. He was not pick of the litter, but just a puppy for whom we had not found the right owners. By the time he was four or five months of age, he had won my heart, and there was no question of letting him go. He has grown into a super young dog who has had an outstanding show career so far, and been highly praised by the judges who have seen him. But more than anything, he is a sweet, gentle and affectionate dog and a true friend.
Pedigree for Sahar
Cream and white

ISBR 87974

Born: March 17. 2001

Hips: A

Patella: Normal

Eyes: Normal
Sire
Multi Ch. Barak me Shaar Hagai

Sire
Isr.Ch. Bazak me Shaar Hagai

Sire
Isr.Ch. Koren me Shaar Hagai

Sire
Int.Isr.Ch.WW 95-6 Lehitraot me Shaar Hagai

Dam
Zohara me Shaar Hagai

Dam
Yona me Shaar Hagai

Sire
Int.Isr.Ch.WW95-6 Lehitraot me Shaar hagai

Dam
Yafit me Shaar Hagai

Dam
Int.Isr.Ch.WW Bat me Shaar Hagai

Sire
Multi Ch. Lahav me Shaar Hagai

Sire
Multi Ch. Sirpad me Shaar Hagai

Dam
Gali me Shaar Hagai

Dam
Mikah Beit Kuti

Sire
Shimshon me Shaar Hagai

Dam
Holit Har Paz

Dam
Timnath Sarah

Sire
Sivan me Shaar Hagai

Sire
Int.Isr.Ch.WW Shachmat me Shaar Hagai

Sire
Multi Ch. Sirpad me Shaar Hagai

Dam
Tehiyah me Shaar Hagai

Dam
Int.Isr.Ch. Tehillah me Shaar Hagai

Sire
Isr.Ch. Anan me Shaar Hagai

Dam
Isr.Ch.Peela me Shaar Hagai

Dam
Layla me Shaar Hagai

Sire
Isr.Ch. Shavit me Shaar Hagai

Sire
MultiCh. Sirpad me Shaar Hagai

Dam
Yafit me Shaar Hagai

Dam
Int.Isr.Ch.WW Bat me Shaar Hagai

Sire
MultiCh. Lahav me Shaar Hagai

Dam
Mikah Beit Kuti
This pedigree page was built for free at SitStay.com